Residents say government has not delivered on resettlement promise of land, clean water and livestock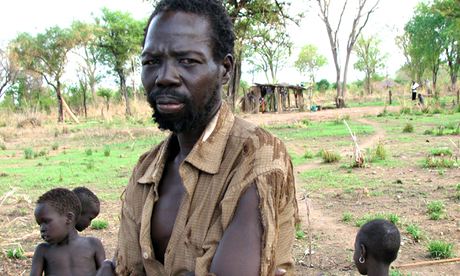 Agulodiek is a patch of land where families gradually gathered of their own accord, while Elay is part of the Ethiopian government's contentious "villagisation" scheme that ended last year. The plan in Gambella was to relocate almost the entire rural population of the state over three years. Evidence from districts surrounding Gambella town suggest the policy is failing.
Two years ago people from Agulodiek moved to Elay after officials enticed them with promises of land, livestock, clean water, a corn grinder, education and a health clinic. Instead they found dense vegetation they were unable to cultivate. After one year of selling firewood to survive, they walked back home.
"All the promises were empty," says Apwodho Omot, an ethnic Anuak, sitting in shade at Agulodiek. There is a donor-funded school at the village whose dirt paths are swept clear of debris, and the government built a hand pump in 2004 that still draws water from a borehole. Apwodho's community says they harvest corn twice a year from fertile land they have cleared. "We don't know why the government picked Elay," she says.
A DfID spokesman said: "We will not comment on ongoing legal action, however, the UK has never funded Ethiopia's resettlement programmes. Our support to the Protection of Basic Services Programme is only used to provide essential services like healthcare, schooling and clean water."
Karmi, 10km from Gambella town, is a newly expanded community for those resettled along one of the few tarmac roads. Two teachers scrub clothes in plastic tubs on a sticky afternoon. A herd of goats nibble shrubs as purple and orange lizards edge up tree trunks. There is little activity in the village, which has bare pylons towering over it waiting for high-voltage cables to improve Gambella's patchy electricity supply.
The teachers work in an impressive school built in 2011 with funds from the UN refugee agency. It has a capacity of 245 students for grades one to five – yet the teachers have only a handful of pupils per class. "This is a new village but the people have left," says Tigist Megersa.
Kolo Cham grows sorghum and corn near the Baro river, a 30-minute walk from his family home at Karmi. The area saw an influx of about 600 people at the height of villagisation, says Kolo, crouching on a tree stump, surrounded only by a group of children with a puppy. Families left when they got hungry and public services weren't delivered. "They moved one by one so the government didn't know the number was decreasing," he says.
Most of flood-prone Gambella, one of Ethiopia's least developed states, is covered with scrub and grasslands. Inhospitable terrain makes it difficult for villagisation to take root in far-flung places such as Akobo, which borders South Sudan. Akobo is one of the three districts selected for resettlement, according to Kok Choul, who represents the district in the regional council.
In 2009, planners earmarked Akobo for four new schools, clinics, vets, flourmills and water schemes, as well as 76km of road. But the community of about 30,000 has seen no change, says 67-year-old Kok, who has 19 children from four wives. "There is no road to Gambella so there is no development," he says. One well-placed civil servant explains that funds for services across the region were swallowed by items such as daily allowances for government workers.
A senior regional official says the state ran low on funds for resettlement, leading to delivery failures and cost-cutting. For example, substandard corn grinders soon broke and have not been repaired, he says. The government will continue to try to provide planned services in three districts including Akobo this year and next, according to the official.
However, the programme has transformed lives, with some farmers harvesting three times a year, says Ethiopia's ambassador to the UK, Berhanu Kebede. The government is addressing the "few cases that are not fully successful", he says. Service provision is ongoing and being monitored and improved upon if required, according to Kebede.
At Elay, Oman Nygwo, a wiry 40-year-old in cut-off jeans, gives a tour of deserted huts and points to a line of mango trees that mark his old home on the banks of the Baro. He is scathing about the implementation of the scheme but remains in Elay as there is less risk of flooding. There was no violence accompanying these resettlements, Oman says, but "there would be problems if the government tried to move us again".