CEO sees 'business as usual' amid state of emergency

Hub model has forged African champion in one of poorest states
Ethiopia, indelibly linked with images of grinding poverty and famine, has quietly built one of Africa's rare corporate success stories with the continent's only consistently profitable airline shuttling passengers from around the world through its hub in Addis Ababa.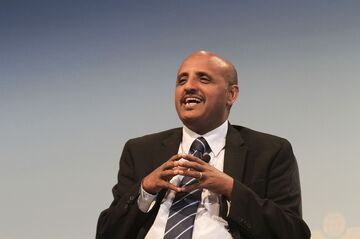 Chief Executive Officer Tewolde GebreMariam insists the unrest and a subsequent state of emergency imposed Oct. 8 is a "non-issue" for the airline, which links almost 70 African cities to destinations in Europe, North and South America, the Middle East and Asia. The executive, who has run Ethiopian since 2011, is determined to push ahead with an expansion for a company that could be the last hope for a viable African aviation industry.
"The reality on the ground is peaceful. It's business as usual," the CEO said in an interview at the airline's headquarters at Bole International Airport in Addis Ababa days after the start of restrictions. That remains the case still, he said by e-mail on Thursday, citing an 18 percent year-on-year increase in October passenger traffic. "We have not seen measurable changes."
Lost Continent
That doesn't mean the company is out of the woods, as many of those passengers would have likely booked tickets before the crisis escalated and Western countries issued travel warnings. The bigger test will ultimately come if security measures are lifted as planned in April. Ethiopian's ability to weather the crisis and continue with its ambitious plans is critical for the continent's aviation sector after corruption and missteps undermined peers. African airlines now account for about 20 percent of air traffic to and from the continent, down from 60 percent three decades ago, according to Tewolde.
Hard-currency shortages that mean ticket debts are withheld in some countries have also prompted outside carriers to reduce links, and the continent will be the only unprofitable airline region this year and next, according to International Air Transport Association projections published last week.
In contrast to the failure of Nigerian Airways or the politically led stagnation at unprofitable South African Airways, Ethiopian has benefited from less interference and kinder tax rates, helping to boost net income for the past three years. In fiscal 2015, profit jumped 12 percent to 3.53 billion Ethiopia birr ($160 million), backed by a 6 percent gain in revenue.
Rallying Point
Addis Ababa has also become a center of expertise for the industry, with a recently expanded pilot school and world-class maintenance facilities that service planes from as far afield as Mozambique and Nigeria.
Those gains may be under threat. The Ethiopian People's Revolutionary Democratic Front, in power since 1991, when it ousted a Marxist military regime partly blamed for the 1980s famine, responded to the unrest by declaring the six-month state of emergency. While it since lifted some restrictions after a period of calm, the situation may still make changing planes in Addis Ababa less appealing, especially after countries including the U.S. issued travel warnings.
"The whole Ethiopia-rising story, including the airline, faces a credibility challenge," said Nemera Gebeyehu Mamo, an Ethiopian who teaches economics at the University of London's School of Oriental and African Studies. "The government can only reassure its customers or tourists if it's willing to address the political demands."
'African Emirates'
South African Airways
, EgyptAir,
Royal Air Maroc
and
Kenya Airways
, according to IATA. Tewolde remains unbowed by the challenges, pressing ahead with expansion plans, including promising additions to a 51-strong aircraft order backlog and announcing new destinations including Oslo, Jakarta, Singapore and Chengdu.
Despite the current political issues, the company has the prerequisites to remain a formidable competitor and challenge established Gulf carriers, Nico Bezuidenhout, SAA's former acting CEO who now runs low-cost African carrier Fastjet Plc, said in an interview.
Ethiopian has an enviable position with consistent state backing, unparalleled management continuity and a hub at a natural crossroads, so "I may as well be talking about Emirates," he said.
Before it's here, it's on the Bloomberg T